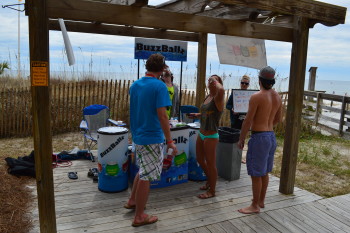 Want to know why BuzzBallz are the perfect drink? Well, TASTE OUR BALLZ and see what the BUZZ is about!
BuzzBallz offers 9 delicious ready-to-drink cocktails, packed into the first-ever designed plastic container in America. Its aluminum top, durable shell, and round shape makes drinking and hanging out with friends even more fun. You are sure to get noticed with our one-of-a-kind packaging and flavors.
These spirit-based drinks, made with vodka, rum, or tequila, keep the partying going where glass is prohibited! Enjoy our Tequila 'Rita on the beach, Strawberry Rum Job by the pool, or Forbidden Apple while floating the river. If you prefer a frozen cocktail, no problem! Just throw your BuzzBallz in the freezer the night before, then boom! You have yourself a slushy cocktail.
Since each drink is barcoded for individual sale, you can mix and match between your favorite flavors. Our number one goal is to give you a great value with a great taste. Try our wine-based cocktails Tropic Chillerz!