Panama City Beach
Free Cover
Free Drinks
Concerts
Discounts
PANAMA CITY BEACH, FLORIDA
Panama City Beach, FL is known as the "Spring Break Capital of the World" and one of the largest spring break destinations in the USA. 
The 7 day card schedule starts on Saturday and goes until Friday. 

You can pickup your card starting Saturday at 12pm at the Maniac booth located at Harpoon Harry's and Hammerhead Fred's. We suggest getting it as early as possible to avoid waiting in line.

You must have the card on you when entering events. If card is lost you will be charged a full price replacement fee.

Please have your photo ID ready. ID must match name of Mania Card order purchase confirmation. This will be emailed when order is placed.

Please pay attention to card schedule times. Come early if 

you're

 21+, and you can leave and come back later. If 

you're

 under 21, you can't leave and re-enter 

with

 card. Most 

venues

 will 

change a cover for under 21 re-entry.
Maniac VIP Card party locations include the biggest clubs on the beach. Check out spring break hotspots like Harpoon Harry's, Hammerhead Fred's, and Longboards. 
Also check out the discounts on back of schedule and save on food, attractions, and more.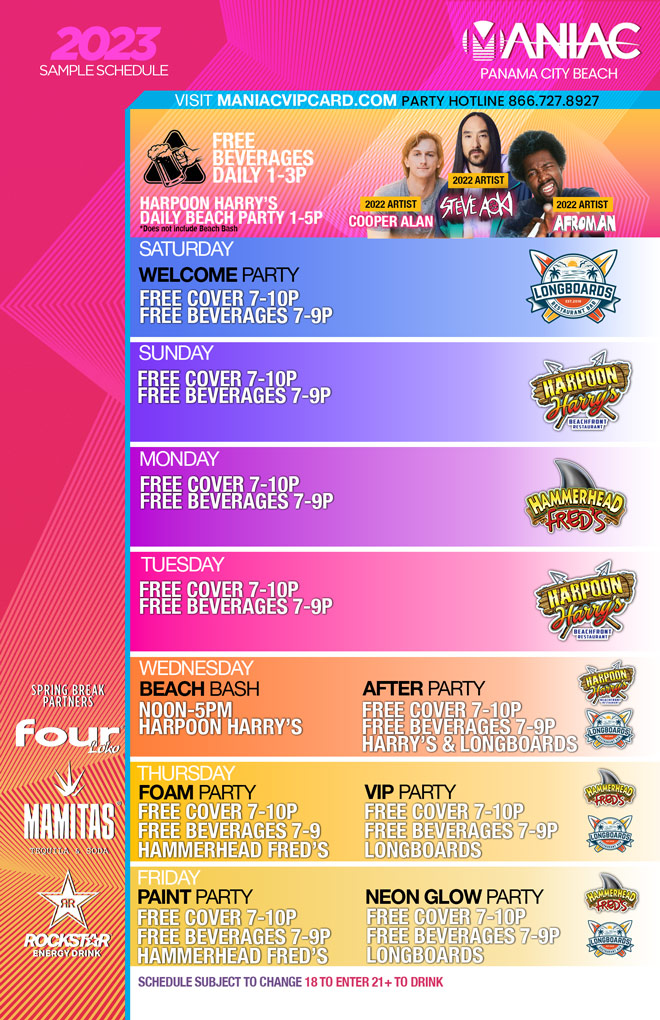 Spanning 27 miles of sugar white sand beaches that lie on the edge of the emerald waters of the Gulf of Mexico, this northwest Florida location is a hot spot for tourism, easily traveled to by automobile from most anywhere in the U.S. If you prefer to fly, the recently constructed Northwest Florida International Beaches Airport is just minutes from the beach.
You will find once you arrive, that virtually all the hotels and condos are gulf front and every room faces this gorgeous beach. You will really enjoy the warmth and sunshine of this tropical climate and participating in beach activities like volleyball, parasailing and jet skiing are easily accessible.
Known not just for its beaches and daytime attractions and activities, Panama City Beach has a world renowned nightlife scene, boasting some of the largest and best beach clubs and restaurants in the country.
The relatively inexpensive hotel and condo fees make this place one of Florida's more affordable destinations, which attracts tourists from all parts of North America, looking for lengthy, budget friendly stays.
Did You Know?:
According to Travel and Leisure Magazine this destination has one of the most beautiful beaches in the world!
Panama City Beach is ranked as the fourth most visited travel and tourism destination in Florida.
Panama City Beach's Shell Island and St. Andrews State Park are two natural state parks that are must-see experiences when visiting.
Panama City Beach boasts one of the largest concentrations of bottle-nosed dolphins in the world.
Known as the Shipwreck Capital of the South, Panama City Beach a diver's paradise, famous for its off-shore ship wreck discoveries, which can be found off the coast of the Gulf of Mexico.
Panama City Beach has enjoyed wide-spread acclaim for having one of the world's best beaches.
For more information on Panama City Beach visit the #1 online resource PanamaCityBeach.com
BOOK YOUR SPRING BREAK TRIP

As Spring Break veterans, we know how to plan the perfect experience. Book your hotel packages through our partners at StudentEscape. They books tons of rooms a year while locking in specials rates, and then pass the savings along to you. Every location has on-site staff, private hotel check-in, and special events for StudentEscape travelers.