GET THE ULTIMATE GRAD PASS VIP CARD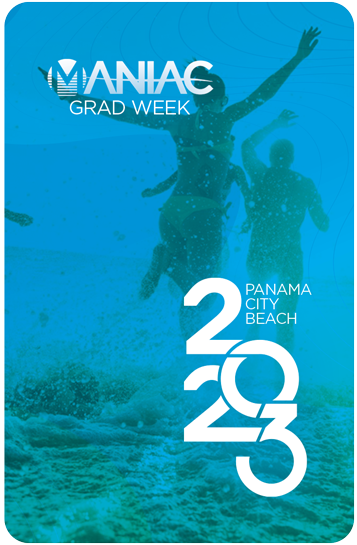 GET THE GRAD PASS VIP CARD
The Grad Pass VIP Card is the #1 party program for high school seniors celebrating the best time of their life. Celebrate High school Grad Week in style on 27 miles of sugar white sand beaches that lie on the edge of the emerald waters of the Gulf of Mexico. According to Travel and Leisure Magazine this destination has one of the most beautiful beaches in the world! The card allows students to save money and have fun at Panama City Beach's premier GRAD EVENTS.
THE ULTIMATE GRAD PASS VIP PARTY CARD!
Here is how it works: Buy the Grad Pass VIP card and receive over $500 in savings with: FREE ENTRY TO GRAD PASS EVENTS, FREE CONCERTS, DISCOUNTS ON RESTAURANTS & LOCAL ATTRACTIONS!
NOTE: The VIP cards once purchased will not be mailed. The actual VIP CARD must be picked up using the voucher you will be emailed once the purchase is complete. Please remember to bring your ID and voucher on  your mobile device with you once you arrive in your destination so that the cards can be issued to you.
PLEASE CELEBRATE SAFELY!
GRAD WEEK VIP CARD BENEFITS:  SAVE  HUGE $$$!!
Party with thousands of students at the hottest clubs & the biggest events
FREE cover charges at the most popular Grad Week Events ($300 value)

FREE and DISCOUNTED Concerts ($100 value)

Huge discounts at the BEST restaurants & RETAIL Stores (Save big $$)

FREE & Discounted Tickets on HUGE EVENTS! ($100 value)
SAMPLE GRAD WEEK VIP SCHEDULE