Daytona Beach
Free Cover
Free Drinks
Concerts
Discounts
Situated on the Atlantic coast, Daytona is located in central Florida where warm weather in March is almost guaranteed. Daytona Beach is the original home of Spring Break before Panama City Beach took over in the late 90s. As a plus, it's close vicinity to Disney World isn't too shabby for those of you up for a day trip to relive your childhood. Daytona Beach Spring Break has it all! With 23 miles of beautiful beaches, thousands of students from across the U.S., and some of Florida's hottest nightlife, Daytona is a Spring Beaker's fantasy. In Daytona, beachfront hotels come with a college student's price tag making it one of the most popular destinations for Spring Break. Book Now!
If you're up for making a day trip, Daytona Beach is quite close to Walt Disney World, SeaWorld and Universal Studios in Orlando. Daytona also has its own local attractions like DaytonaUSA, an exhibit that celebrates the history of NASCAR and the famous Daytona International Speedway.
When the sun goes down the nightlife really heats up. Daytona Beach has a wild club scene all located within easy walking distance from the beach hotels. Whether you enjoy live DJ's spinning high energy dance beats, chart breaking concerts or a party inducing reggae band, it's all here in Daytona Beach.
There is no need to drive your car to the clubs at night because Daytona's party bus will get you there safely. This unique, English style red double decker bus provides free rides for Spring Breakers all night long. The party bus makes regular stops at all the major beach hotels and all the best nightclubs and beach bars.
Daytona Beach is easily accessible, either by car via interstate 95 or by air via Daytona Beach International Airport, located five minutes from the beach – with plenty of flight options hailing from Delta and U.S. Air.
There's a reason why Daytona Beach is considered the world's most famous beach. Come discover it for yourself!
Did You Know?:
Daytona Beach has been called the "World's Most Famous Beach" since the early 1920's.
Cars can drive directly on the beach due to Daytona's hard-packed sand
The world famous Daytona 500 race is held each year and is the largest stock car race in the world.
MTV filmed their first "reality" show during Spring Break in Daytona Beach in 1986
Day trips to Orlando's theme parks are just a short distance away
Daytona was once considered the "Spring Break Capital" during the 1980s and early 1990s.
The 7 day card schedule starts on Saturday and runs until Friday. 

You can pick up your card starting Saturday at 12pm at the Maniac booth located at the Manic Kiosk at Ocean Walk Center. We suggest getting it as early as possible to avoid waiting in line.

You must have the card on you when entering events. If your card is lost you will be charged a full price replacement fee.

Please have your photo ID ready. ID must match name of Maniac Card order purchase confirmation. This will be emailed when order is placed.

Please pay attention to card schedule times. Come early if 

you're

 21+, and you can leave and come back later. If 

you're

 under 21, you can't leave and re-enter 

with

 card. Most 

venues

 will 

change a cover for under 21 re-entry.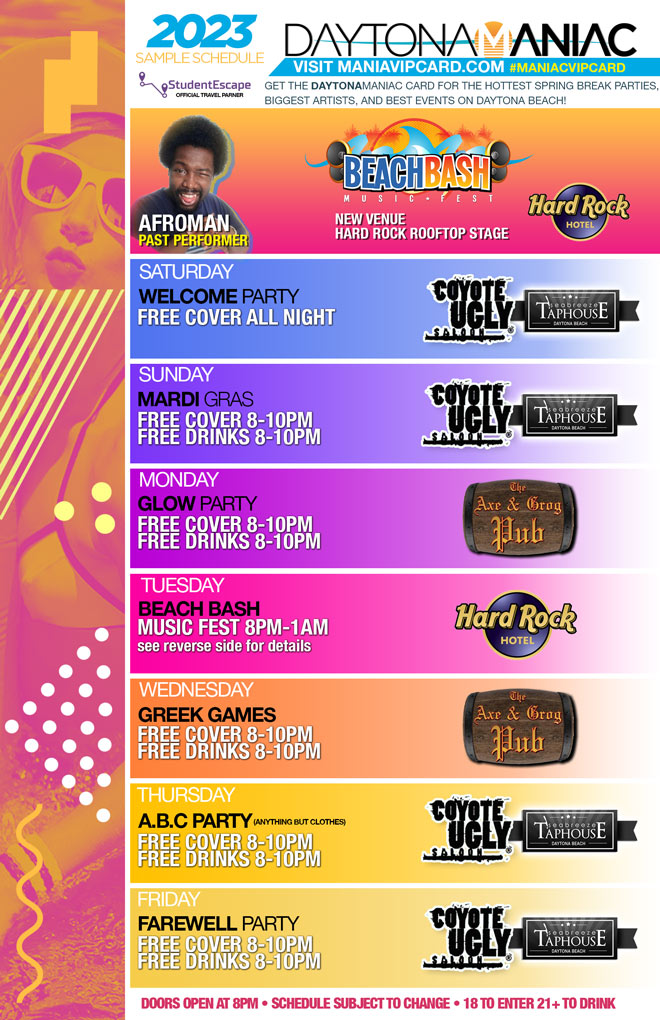 BOOK YOUR SPRING BREAK TRIP

As Spring Break veterans, we know how to plan the perfect experience. Book your hotel packages through our partners at StudentEscape. They books tons of rooms a year while locking in specials rates, and then pass the savings along to you. Every location has on-site staff, private hotel check-in, and special events for StudentEscape travelers.