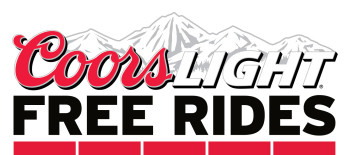 MEDIA CONTACTS:
Cat Corrigan
Coors Light Free Rides®, Goldring Gulf Distributing Company to Provide Free Shuttle March 1-21
CHICAGO (February 6, 2014) – Coors Light is teaming with the Panama City Beach business community to make the spring travel season safer.  The World's Most Refreshing Beer is bringing its signature Coors Light Free Rides® program back to Panama City Beach to provide vacationers with a safe transportation alternative. In partnership with Goldring Gulf Distributing Company, Coors Light will provide free shuttle service nightly throughout downtown Panama City Beach beginning March 1 through March 21, with stops at popular hotels, bars and restaurants.
"We believe that with great beer comes great responsibility, and that means enjoying your vacation by planning for a safe ride home," said Pam Perri, responsibility initiatives manager for MillerCoors. "Keeping the community and its visitors safe is a priority for this program and we are pleased to help make that happen."
Coors Light Free Rides is part of a broader local safety investment to help keep residents and visitors safe during the busy travel season.   Last year, more than 60,000 visitors in Panama City took advantage of the Coors Light free shuttle service during the month of March.
"We work daily with our merchants and retail partners to promote the responsible consumption of our products, and are excited and honored to be partnering with Coors Light. Coors Light Free Rides is yet another great tool for promoting responsibility in our community," said Mike Johnson, Managing Director of Goldring Gulf Distributing Company.  "Panama City Beach merchants and retailers have been very receptive of the program, and we are delighted to have the support of our business peers and merchant associations to keep our community safe."
"The Panama City Beach Police Department is proud to see MillerCoors and our community leaders work together to provide free transportation service to our visitors during the spring travel season in 2014," said Drew Whitman, Panama City Beach Police Department Chief of Police.  "This great service will keep our visitors safe while visiting the World's Most Beautiful Beaches."
Detailed route and schedule information is available by calling 1-800-FREE-RIDES (1-800-373-3743) or visiting www.coorslightfreerides.com.
WHAT: Coors Light Free Rides
WHEN: March 1-21 Service available nightly from 6:00 p.m. until 2 a.m.
WHERE: Coors Light Free Rides will travel on a loop, stopping at popular bars, restaurants, hotels and shops along Thomas Drive and Front Beach Road.
MEDIA OPPORTUNITIES:
Interviews available with a MillerCoors or local Goldring Gulf Distributing Company representative for information on the program and its local impact
Visuals of Coors Light Free Rides branded bus
###