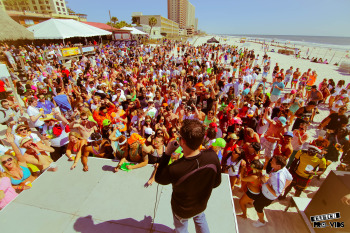 Quickly becoming Spring Break central due to its location, Sharky's is perfectly placed within walking distance of Pier Park's shopping center and many of the newly built condos and hotels that make up the beach's heavily populated west end.
Sharky's built its strong Spring Break reputation on its 'World Famous Beach Bash Music Fest' – an amazing event put on each week in March. Rolling Stone Magazine and MTV have hailed it as the 'best daytime party in the USA', and for good reason.
Sharky's is also part of the Panamaniac VIP Club Card Network, so each night is a different experience. Come for the biggest Spring Break welcome party you've ever seen on Saturday nights.
For more information on the Panamaniac VIP Event schedule and how to purchase your Spring Break 2015 Panamaniac VIP Card, please visit www.panamaniacclubcard.com