Spring Break 2014 in Panama City Beach, Florida is just around the corner, and already huge buzz is generating around the events and which ones will be the best and most popular to attend.
For the entire month of March, the 'Spring Break Capital of the World' will be the one place you'll want to be at if you are a student. And the one thing you're going to definitely want to make sure you have when you arrive into town is the Panamaniac Club Card.
Every day and night there's a different party to hit up when you have the number one club card in PCB. This card not only gets you free cover charges at the best clubs, but it gets you free admission to the biggest, hottest and wildest events! Not to mention FREE swag!
To purchase your 2014 Panamaniac Club Card right now, please click here!
Other major events to mark on your Spring Break calendar include:
The Beach Bash Music Fest at Sharky's Beach Club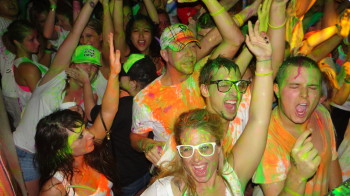 This is, hands down, Spring Break's number one daytime event. Over 6,000 spring breakers attend this live MC'd party each week and rock to live music performed by some of today's hottest DJs and bands. Free giveaways, plus celebrity guests makes this event a no-brainer. Yeah, we're there! Click here to purchase your 2014 Beach Bash ticket online!
Who would have thought that slinging paint would be so much fun! The Friday night Glow Paint Party at Hammerhead Fred's packs thousands under the new pavilion and features Spring Break's hottest DJs who keep the energy and great vibes alive. We're thrilled to say that the Glow Party has become one of the hottest nighttime events on Spring Break and will be back in 2014! This event is also FREE OF CHARGE with the purchase of your Panamaniac Club Card!  Click here to purchase your 2014 Glow Paint Party ticket online!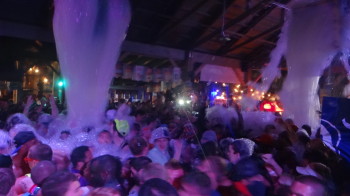 Thursday night's legendary Foam Party is always a Spring Break staple event. A definite sure thing when it comes to having a good time, the Foam Party at Hammerhead Fred's just seems to kick it up a notch with great music, great giveaways and tons of people getting wet! Boasting three massive foam machines spilling hundreds of gallons of foam on the crowds to the very best electronic music, this party is never one to miss. Click here to purchase your 2014 Foam Party ticket online!
Panamaniacclubcard.com is your source for all events and parties for Spring Break in Panama City Beach. Keep checking back for all the updates and info regarding all your entertainment needs.