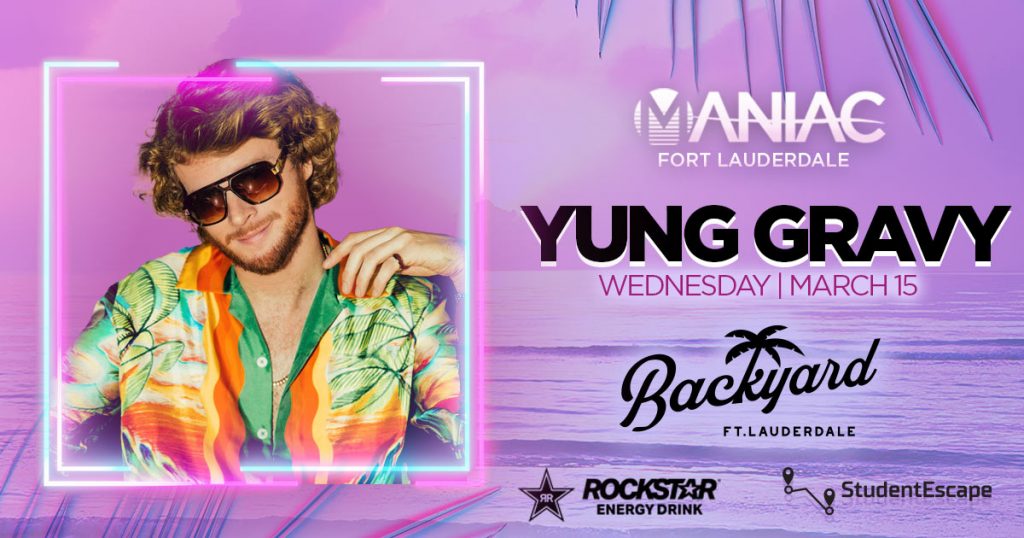 American born and Billboard Hot 100 artist 'Yung Gravy' has been booked to perform live in Fort Lauderdale, FL at Backyard on March 15, 2023. It's the first major spring break concert announcement of the year, courtesy of leading student travel company StudentEscape and marketing firm CMG Media Agency.
Early-bird tickets for this night-time headlining concert event are now on sale through the www.maniacvipcard.com website. Doors will open at 8pm and will feature multiple opening acts before Yung Gravy hits the stage.
Born Matthew Raymond Hauri, but professionally known as Yung Gravy, the artist first gained recognition in 2017, when his song "Mr. Clean" gained traction on SoundCloud and is now a certified Platinum artist. Since 2017, Yung Gravy has completed seven international tours and has released one mixtape, three albums, and seven EPs. In 2022, he released his first Billboard Hot 100-charting hit, "Betty (Get Money)".
"We're extremely excited about being able to book a talented and entertaining act like Yung Gravy," said Carm Giardina, a representative of CMG Media Agency, the marketing firm responsible for all major spring break events throughout the month of March. "Giving the students what they want musically is a real thrill for us, and we know that this event is going to be nothing short of fun and entertaining for everyone in attendance."
As mentioned, musical sensation Steve Aoki performed during Spring Break 2022 and played a sold-out show. "We're already anticipating another sell out," added Giardina.
This concert event at Backyard is sponsored in part by Rockstar Energy Drink. Tickets for this event can be purchased directly by clicking here via the Maniac VIP Card Events Page. There are only a limited amount of tickets available, and this event will sell out fast.